---
---
Tasty and Easy to Take!
Effervescent tablets, dissolved in liquid, are perfect for those who have difficulty swallowing capsules or tablets.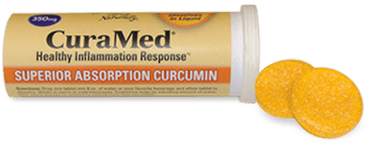 • Cell-protecting, clinically studied curcumin*
• Excellent for adults and children
• Provides 135 mg of curcuminoids, the key component found in turmeric
• Mild tangerine flavor
The CuraMed® Difference
When compared gram per gram, CuraMed's clinically studied curcumin delivers up to 500 times more curcumin to the bloodstream than turmeric.
---